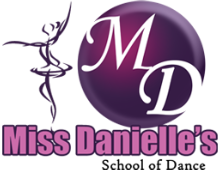 LATE FEES!!!!!

1) Your bill is due at the FIRST class of the month! EVERY month Sep-May!
2) Payments received the 2nd week are given a grace period.
3) Payments received the 3rd week are assessed a $5 late fee.
4) Payments received the 4th week are assessed a $10 late fee.
5) Anything paid after the 4th week will get an automatic $10 late fee and your child will not be allowed in to class until your account is paid.
PAYMENT METHODS
We accept cash, checks, money orders & credit/Debit cards at the dance studio! We accept Visa, MasterCard, American Express & Discover.

We also regularly send invoices via PayPal or the Square Card reader. All of our debit & credit card payments (in person & over the phone) are processed through our Square account.

Payments are accepted during normal business hours at the studio (check the schedule).

NOTE: ALL CHECKS/MONEY ORDERS MUST BE MADE PAYABLE TO: DANIELLE SCHMITZER

*DO NOT make checks payable to Miss Danielle's School of Dance!
REQUEST AN INVOICE
Through the year many parents request that we send them an email invoice so they can pay their bill. NO PROBLEM! Just shoot us a quick email at info@missdanielle.net & let us know who you want an invoice for, and we will send it right out to you, either through PayPal or through Square. You can pay with a credit/debit card either way, and both are 100% secure.

If you ever want to see a payment history for your dancer(s), email us a request & we will send it to you! Don't ever get caught off guard & have an overdue account balance!



All Contents Copyright 2019 Miss Danielle's School of Dance or the original owner. All Rights Reserved.
Website concept and development by GRFX Media. Contact the Webmaster with any questions or comments.